The University nuhelot'įne thaiyots'į nistameyimâkanak Blue Quills Early Learning and Child Care Program (formerly the Early Childhood Development Program).
This program has evolved from best evidence in contemporary research and from the input of child care providers in First Nations communities surrounding UnBQ. With the success stories and challenges experienced by the people doing this very important work, the program was designed and enhanced, not only to meet the needs of child care workers in daycares but will allow students to transfer their skills to different child care settings.
The program components address; child development issues, planning and programming, relationships, practicum experience, and related course work in research, writing skills, and administration with a strong focus on Cree immersion methodologies. This design provides access to traditional Indigenous knowledge and childcare practices.
The home visitation component provides necessary training in bridging the gap between child care agencies and families. Students will develop skills in working with families in the areas of child development, health issues, early literacy, connecting families to community resources and being an advocate on the families' behalf.
A critical feature includes research on brain development and has opened up views for practical strategies for children experiencing difficulties in healthy development, behavior management and trauma recovery. Child development concepts are explored in both Western and Indigenous terms.
Traditional Indigenous child care practices are central to the program. Innovative tools and elder teachings are utilized to develop effective Indigenous language resources whether you are a fluent speaker of Indigenous languages or not.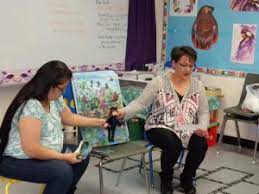 At the end of the program students may seek employment in:
Daycare Centers
Home Visitation Programs
K4 Playschool Programs
Group Homes
Headstart Programs
Dayhome Programs
Boys & Girls Clubs
Afterschool Programs
Admission Requirements:
1. Early Childhood Educator – Level 2
High School or equivalent and Skills Appraisal Test/Interview
3. Early Childhood Educator – Level 3
Early Childhood Educator Level 2