The Indigenous Social Work Degree (IBSW) was developed through an inter-tribal process to articulate social work education founded in Indigenous knowledge. This collective work was carried by First Nations colleges and post-secondary Institutes in Alberta through leadership of our community Elders (primarily Blackfoot and nêhiyawêwin speakers) and a working group called the Social Work Task Force. Development occurred over a twenty-year period from visioning to implementation in September 2016. Initiated by Marie Smallface-Marule at Red Crow Community College and then acted on through the efforts of many individuals over time, the Elders articulated a Declaration in 2002 which informs the curriculum of this unique degree.
The four-year program can be achieved through two routes, a Diploma of Social Work or a university transfer route, although only the Diploma of Social Work has been accepted for entry into the first offering of the IBSW degree (September 2016) and the work is in progress towards university transfer entry in the future which require transfer agreements among Indigenous Institutes.
Social Work Education as a Sovereign Statement
The delivery of this program is an act of sovereignty — to act on the conviction that Indigenous Post-Secondary Institutions have a responsibility for the education of Indigenous people and for the preservation of Indigenous knowledge and life-ways.
The Elders directed the working group to request an agreement with the Canadian Association for Social Work Education (CASWE) to affirm the Indigenous accreditation pathway that the IBSW has taken. Accreditation has been granted through the National Indigenous Accreditation Board (NIAB) and candidacy status was granted through World Indigenous Nations Higher Education Consortium (WINHEC) in 2008. In the same way that Canada (CASWE) has a mutual agreement with the United States accepting American degrees that have been accredited through their state and national processes, the Social Work Task Force asked for the same level of agreement between CASWE and NIAB for our Indigenous Social Work Degree.
We have been successful in this request.
The agreement in principle was signed May 29, 2016 while working towards a national celebration and formal agreement to be signed at the 2017 annual meeting of the Canadian Association for Social Work Education (see announcements at National Indigenous Accreditation Board, Accredited Members - NIAB and at http://caswe-acfts.ca/acswe-acfts-and-the-national-indigenous-accreditation-board-sign-an-agreement-in-principle/).
Andy Blackwater (Emminent Scholar), Roy WeaselFat (President of NIAB) and Dixon Sookray (President of CASWE) signing an historic agreement in principle (AIP) on May 29, 2016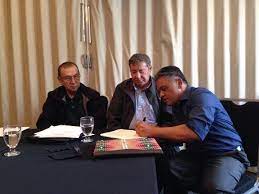 What are the admission requirements?
Preference is given to students with Diploma of Social Work or equivalent credential from an Indigenous Institute (UnBQ or MCC). Social Work Diplomas from other Institutions are also eligible but will be reviewed to ensure that the Indigenous standards have been met. The nine approved Diploma programs in Alberta have evolved to meet these standards but earlier graduates may not have all the required course content as more recent graduates, and they may need to complete a learning requirement (such as review specific materials, research, attend ceremony) to address any curriculum gaps.
Where is the IBSW being Offered?
Delivery began in fall 2016 at University nuhelot'įne thaiyots'į nistameyimâkanak Blue Quill, situated near St. Paul, Alberta. Potential admission sites are Yellowhead Tribal College and Maskwacis Cultural College. UnBQ began a second delivery of the IBSW in September of 2019.
To apply:
BQ Application Form (Fillable)
To use the fillable application form please click on the link, fill in the form and email to registrar@bluequills.ca
IBSW Application Package (Fillable)
To use the fillable application package form please click on the link, fill in the form and email to registrar@bluequills.ca